Do you love being outside on beautiful sunny days? Well so do I along with so many of Clemson's students! Let's dive into some of my personal favorite outdoor study spots on Clemson University's campus!
#1. Underneath Library Bridge…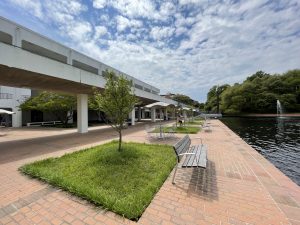 Looking out onto the reflection pond underneath Library Bridge is my personal favorite place to study on campus! By being underneath the main traffic jam that takes place on library bridge, it's usually one of the quieter and more undisturbed outdoor spots on campus. There are many tables to choose from or benches for simply relaxing making it a classic favorite among many students at the university.
#2. The Amphitheater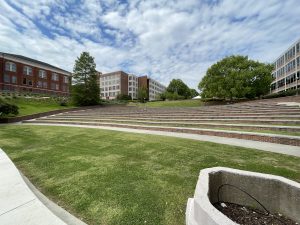 The amphitheater is another one of my favorite spots to bask in the sun on those particularly warm nice days. I personally love hanging out with my friends in between classes here, eating lunch, or reviewing class materials in an outdoor setting! The amphitheater is also home to pep rallies, the occasional concert that the university hosts, and many club events! Visiting the amphitheater is always a good idea to catch up on the latest with Clemson, meet for a midday study session, or a nice afternoon nap in the sun!
#3. Outside the Business School

The business school is our newest building on campus and was just finished in 2020. Where it used to just be a giant hill of grass, there now sits a magnificent glass and brick building that towers over the border of campus and seamlessly connects to the newer community named Douthit Hills.  Outside the school and at the bottom of the stairs lays a brick courtyard that many students have taken a liking to for studying- probably because there's a Starbucks so close by!
#4 All In Coffee Shop

All In is one of downtown's cutest shops with even the name resembling that famous Clemson spirit! A favorite of many students in Clemson, their specialty drinks such as the 'white tiger' and the 'panda bear' pair great with an afternoon study session in their oversized lounge chairs that create that classic coffee shop feel! They have optional seating both indoors and outdoors so whether it's rain or shine, All In has the spot for you!
#5 Starbucks at McAlister Hall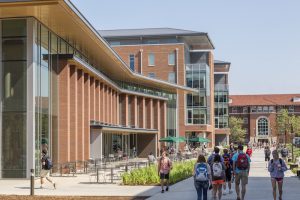 Starbucks at McAlister, more commonly known as Starbucks at Core Campus among the students, is a convenient, on-campus option for students between classes to grab a signature coffee or bite of food. With many tables both indoors and outdoors, there's always a seat to be found with a friend or an empty table ready for you to hit the books! And if that's not enough to make you love this spot, there's Cane's and the dining hall right next door for a tasty lunch study break!